VIRGINIA BEACH, VA – 8/28/2023
Virginia Beach based non-profit 'The Noblemen', have announced the launching of their organization's new website.
The Noblemen commissioned another Virginia Beach based entity, Kevin Makes Sense Media, to update and re-design the group's website.  "Kevin Neff and his team spent the past year attending our meetings, events, and philanthropy opportunities", said Chairman Mike Reff. "They wanted to capture first hand how we interact and give back to the community, and we could not be more pleased with the final design and image they produced for us".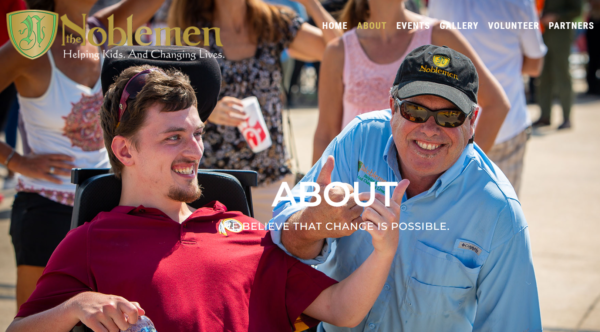 The Noblemen partner with other non-profits and organizations to raise awareness and funds for those less fortunate throughout the greater Hampton Roads. All proceeds raised by The Noblemen go to their "Adaptive Bike Program" as well as other giving initiatives to help local children. "To be given the opportunity to partner with such a great organization in their re-branding initiative was truly an honor", said Neff. "We wanted to be part of the next chapter in the continuing of the group's legacy."
About The Noblemen – THE NOBLEMEN are a 501(c)3 non-profit organization based out of Virginia Beach, Virginia. Our mission is to identify and perform "Noble Deeds" for local children in need of help or assistance. We hope that you will you join us as we continue helping kids, and changing lives throughout the entire Hampton Roads area. Learn more: https://thenoblemen.org/
About Kevin Makes Sense Media – Kevin Makes Sense Media is an award-winning video production, creative, and branding firm located in Virginia Beach, Virginia. Their outside the box creativity makes them the branding and marketing firm of choice for those select businesses, entrepreneurs and professionals seeking to stand out from the competition while growing their exposure, influence and following. They provide custom multi-media solutions for local, regional, and national clients. Learn more: https://kevinmakessense.com/